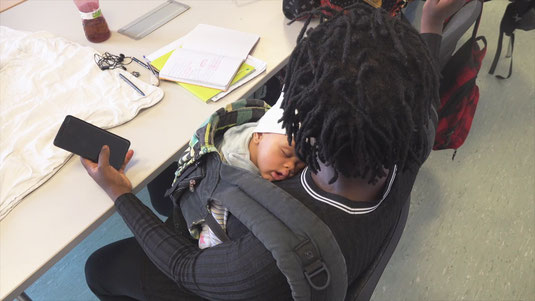 I have been teaching German as a foreign language at Hope for the Future since May 2020. I am also studying social work and educational science at a university of applied sciences. In 2015 I completed my German trainer course in Vienna and support people in various marginalised groups. Our target group are people who are affected by forced prostitution and human trafficking. I am currently teaching a beginner and an advanced group. Around 3-9 visitors take part in the class every day. Our association is not just about giving the target group stability, but also teaching German. A common method is to work with the group to create posters to enhance a better understanding of the language. Various other methods make teaching and learning easier. As part of our support programme we make sure to strengthen new and old resources. We are three German trainers in total who always seek to find and explore new learning methods and ways in cooperation with each other.
ESCAPING A LIFE IN HELL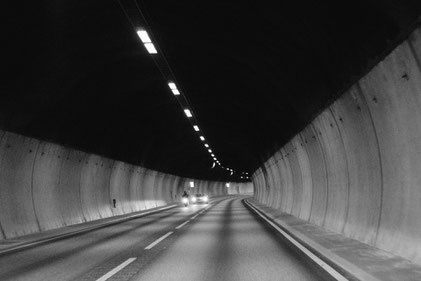 Our participants are people who want to escape an abusive situation or who have already succeeded in doing so. It is predominantly women who are victims of sexual violence and human trafficking. Those affected are often severely traumatised and in order to help them properly our social workers need the necessary patience and sensitivity. Difficulties in supporting traumatised clients can potentially include unpunctuality, poor concentration or tiredness. Our goal is to counteract the trauma by listening carefully and strengthening self-confidence through language skills. Forced prostitution is a serious crime. It is estimated that 45 million people are affected by forced prostitution or human trafficking. Most survivors have existential fears due to their past history and life experiences and often do not know what to do next after the escape. This is one of the reasons why there is reluctance to break free from such toxic and abusive relationships and is the starting point from which to begin supporting those affected. It is often difficult for them to build up trust to other people due to the deception and abuse they have experienced.
CREATING NEW PATHS TOGETHER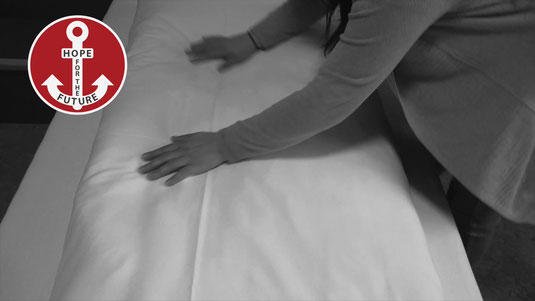 Social skills and an understanding of such difficult pasts are needed to create a safe environment and good relationships. In time, those affected start to build up trust again. By having someone by their side and thus not being alone, learning a new language seems doable and easier. The participants particularly enjoy learning new words. I often see a beautiful twinkle in their eyes when they have learned something new. I hope to have portrayed why I love teaching so much. Of course it can be quite challenging sometimes, even for our trained team, but having a common goal in mind makes the path towards a new life for our clients easier. It is also important to integrate the course participants into the labour market. Learning German is thereby an essential step. Becoming independent and securing a fixed income are major visions for our clients. And this is precisely where Hope for the Future offers a sustainable perspective and solid support for those affected. The work integration training provides a daily structure and strengthens social skills, resilience and flexibility.
LEARNING OFTEN BEGINS IN ONE´S HEART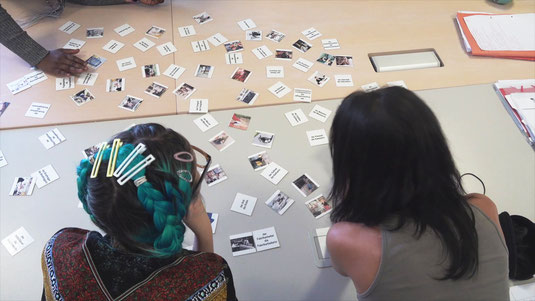 The best part about my job as a German trainer is when vocabulary I have taught are reproduced in a conversation. It is not uncommon for our clients to have picked up some German sayings, phrasings or vocabulary in the past. Correcting inaccurate or incorrectly learned language is often a problem. Friendships often develop among the participants. They meet up and study together for upcoming exams. Even this can be encouraging and motivating for the clients. We also support our participants during the Corona crisis. My colleagues and I use zoom to teach the target group. Our participants learn new forms of learning via the internet, books, posters, magazines or videos. The aim here is to sustainably promote our groups. The language lessons not only promote the self-confidence of the participants, but also create and raise an awareness of the importance of language skills.
SOCIAL WORK FOR OUR PARTICIPANTS
We have a special connection with the social workers from our partner organisation Herzwerk. Through in-depth exchanges with the highly trained team we ensure long-lasting sustainability of our project. We get on well with each other and thus create important structures for our areas. With our and your support we give those affected new courage to live. Everyone deserves, and has the right, to live in dignity and without fear. The German courses are free for our participants. We are of the opinion that human dignity, regardless of origin, is inviolable.
Translated by Sophie Kitchen