In the decade since it was announced that Qatar would be hosting the 2022 World Cup, the small desert state has regularly attracted international attention. The country appears to be accepting the scandals surrounding the major event as collateral damage in its meteoric economic development. At the same time, it is becoming increasingly close to the West, and could become even more powerful in future than it already is. The following article examines what has brought the Emirate to this point, how its future might look – and what that means for the hundreds of thousands of migrant workers who live in the country.
ASTRONOMICALLY HIGH RANSOM
In April 2017, several members of the Qatari royal family were released after 16 months of being held hostage. They had been in Iraq indulging in falconry when a militia abducted them and demanded astronomically high ransoms for their return. Eventually, according to the Financial Times, a ransom of approximately one billion euros was paid by Qatar for the hunting party to be released, with 50 hostages of Syrian jihadists also released in the deal. Some of the ransom money flowed into the coffers of Iranian Shiite militias, as well as going to Islamist troops in Syria. These figures are cited here to illustrate how much the Emirate is prepared to pay for the freedom of a few dozen well-connected people. But how much is Qatar prepared to pay the people on whose hard work the wealth of the nation depends? The people without whom none of the streets, stadiums or other high-status construction projects would even be possible? Until 2020, Qatar was not even prepared to introduce a legal minimum wage for migrant workers. Today, this is approximately 250 euros a month. Instead, commentators like to point to the country's advanced social system, which offers Qatari nationals benefits such as generous wages, as well as free education and health services.
A SHORT HISTORY OF WEALTH AND INEQUALITY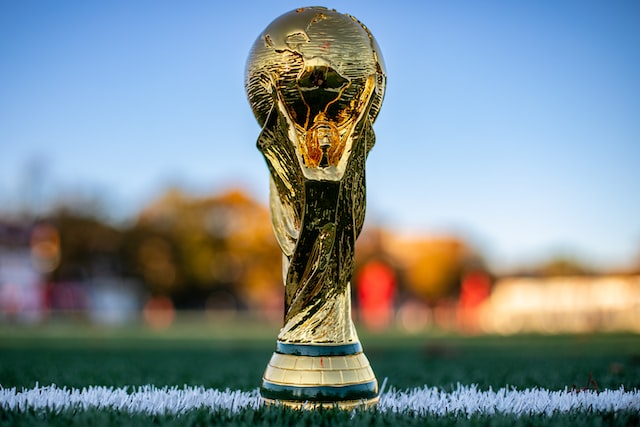 Qatar has become one of the world's richest countries within an incredibly short time. The country's unimaginable wealth is based primarily on its vast gas reserves. The industry has been massively supported since the 1970s, with the gas then being exported to buyers around the world in the form of liquid natural gas. The revenues from this, in turn, are being invested astutely. Focuses for the country's largesse include western sports clubs, media, real estate and other sectors, ensuring the "soft power" that probably also played a role in it being awarded the 2022 World Cup. This is just one of a number of examples of a trend known as "sportswashing", when regimes seek to clean up their image and portray themselves in a positive light by hosting major sporting events and supporting sports clubs.
THE FUTURE OF QATAR AND ITS MIGRANT WORKERS
Basing a country's entire material wealth on resources which not only damage the environment but will also run out one day is a questionable way of doing business from the start. It's possible that those in power in Qatar are simply not aware of this fact, and will pay the price for it someday down the line. Alternatively, of course, betting everything on a single card – the opulent, excessive and profligate lifestyle manifested in the luxuries, monumental construction sites and other status symbols that have become the norm in Qatar – could be a conscious decision. Whichever of these possibilities is actually reality, it's safe to say the Qatari Sheikh is also aware of something else. Every new building, shopping centre, stadium or street that has appeared as if from nowhere in the desert state requires not just raw materials but also vast amounts of manpower. As reported in many places, hundreds of thousands of migrant workers have come to Qatar in recent decades, mostly from south Asian countries, to work on the construction of the countless infrastructure, sports stadium and other high-status construction projects. These workers live and work in often disgraceful conditions so that a privileged class can enjoy their wealth and have fun. Many of the workers have died in the process, often in entirely avoidable situations, whether it be from working in the searing heat or from the effects of unimaginable exhaustion after that work.
There is no question that war of any kind should be avoided at all costs, of course, and strongly denounced. But it's impossible not to feel a dark irony that many European politicians are reacting with such indignation in the face of Putin's inhumanity since Russia's invasion of Ukraine in February 2022, preferring to end economic collaboration with the country immediately, whilst at the same time bowing down before Qatar (often literally; see Robert Habeck's 2022 state visit to Qatar) and solemnly begging to enter into energy partnerships with the Gulf state. This is a classic case of dual morality and opportunism. How often has a European politician taken to the stage to demand humanity and liberty in Qatar, or to make clear that a life in the filthy shacks on the sites housing many migrant workers in Qatar, tiny spaces without the most basic standards of hygiene or privacy, is disgraceful? Newspaper reports, talk show debates and calls to boycott the World Cup are not enough to change these hard facts – the problem, as so often, is in the system itself. At a time when there is ongoing discussion over whether or not heaters should be allowed, Europe and Qatar are busily pumping billions back and forth in the form of money and resources. Both are playing a part in constructing football stadiums which can be cooled down to 20 degrees while the temperature outside is closer to 50 degrees, for example. We are not just idle onlookers, however; we also vote for the politicians who make such madness possible. One suggestion might be to negotiate gas deals with strings attached: clearly stating that the business can only be done if it can be guaranteed that construction projects will take place within a reasonable framework, for example, and that workers' well-being on the site can actually be ensured. The fact that the reality often looks very different actually highlights a very different problem, however, and one to which there is no all-encompassing solution: greed.
#Humantrafficking #Humanrights #Qatar #WorldCup #Football #Work #Politics #AgainstHumanTrafficking #GegenMenschenhandel #EndExploitation #EndTrafficking #HopeForTheFuture #Österreich
Translation by Tim Martinz-Lywood, European Exchange Ltd.
www.european-exchange.co.uk