Psychological and physical violence has far-reaching consequences for people who are or have been affected by it. Susanne El Mahdi is a psychologist and answers some questions about the topic in this text.
HOW DO TRAUMATIC EXPERIENCES AND PSYCHOLOGICAL AND PHYSICAL VIOLENCE AFFECT VICTIMS?
The term "trauma" or "traumatic" disorders is now used increasingly by us in everyday life. Of course, we all experience our minor or major traumas in life, but a traumatic disorder to be classified as pathological in the psychiatric sense must fulfill certain "conditions," or must have certain characteristics. The WHO's "International Classification of Mental Disorders" names the following disturbance patterns following traumatic experiences: Acute stress reaction, post-traumatic stress disorder, adjustment disorder, dissociative disorder, and persistent personality change after extreme stress.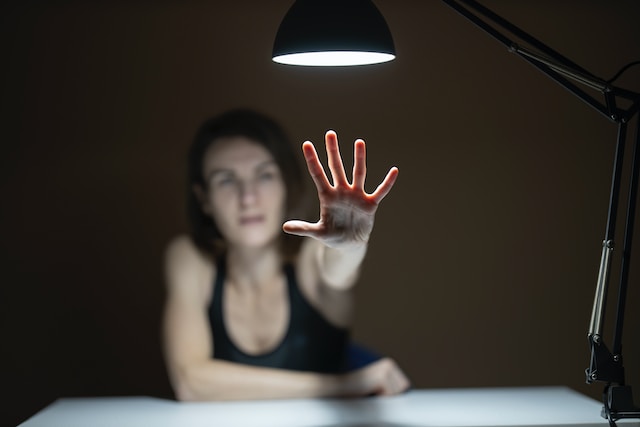 Why do we categorize the suffering of those affected in this way and what difficulties arise in possible psychotherapeutic offers of help?
On the one hand, an internationally valid description of disorders makes it possible to talk about psychologically and psychiatrically relevant abnormalities; on the other hand, it simplifies and levels a person's state of suffering. This varies from person to person, not least because of culturally shaped ways of experiencing states of suffering as such and communicating them to others.
Regarding people: In my experience, these are often women who are victims of human trafficking, or who are affected by it. The fact that their life situation is not only characterized by "traumatic" experiences, but is also usually based on a highly unstable foundation, makes possible psychotherapeutic assistance even more difficult:
Trafficked persons are usually illegal in the country to which they have just been "trafficked", so if they "throw off their chains" by renouncing their "traffickers"/pimps/"superiors", …, they are usually threatened with deportation; if they testify against them to the police or if traffickers suspect that this could happen, victims of trafficking are also threatened with death.
In the context of this complicated situation, it is nearly impossible for trafficked persons to gain trust or to distinguish between people who care for their well-being and those who could force them into prostitution, for example. Not only is any help in everyday life affected by this almost unsolvable initial situation, but it also basically makes any psychotherapeutic effort impossible. If psychotherapy is to be effective, there must be security with regard to a long-term stay; psychotherapy cannot create "security" or "pretend" where security actually does not exist.
HOW MUCH DO SOCIETAL INFLUENCES CONTRIBUTE TO THE SUFFERING OF THOSE AFFECTED?
In addition to the psychiatrically relevant symptoms of those affected, there is the certainly equally "traumatizing" realization or at least inkling of being completely insignificant in the world and in the value system of others. The personally experienced suffering is often even the basis for the supposed "pleasure" of others. Our "luxury" is largely based on the exploitation of others, whose living conditions are completely indifferent to us. The problem lies in having fluid boundaries – think of the completely underpaid and socially unprotected parcel deliverers, food delivery people, etc.
WHAT EXACTLY CHARACTERIZES THE DISORDERS LISTED ABOVE?
Symptomatic of a stress reaction may be: a kind of "stupor", some narrowing of consciousness and limited attention, inability to process stimuli, disorientation, a withdrawal from the current situation to the point of stupor, reduction or absence of voluntary movements and normal responses to external stimuli such as light, sound, or touch], or any of the following: agitation and hyperactivity (flight reaction); panic anxiety, tachycardia, sweating, and blushing.
Symptomatic of post-traumatic stress disorder: the repeated experience of the trauma in intrusive memories (reverberations, "flashbacks") or dreams, persistent feeling of numbness or emotional dullness, indifference to other people or apathy toward the surroundings, anhedonia or avoidance of activities and situations that might evoke memories of the trauma – even fear and avoidance of triggers that might recall the original trauma, sometimes anxiety, panic, or aggression, state of vegetative hyperexcitability, excessive startle response, insomnia, depression, suicidal ideation, drug use, and excessive alcohol use.
The disturbance patterns are altogether recognizable and evident for the next generation (i.e. children) – if they exist at all under these circumstances; the emotional bluntness and indifference towards others (also one's own children) particularly make it plausible why "traumatic experiences" are passed on transgenerationally.
HOW DO YOU GO ABOUT TREATING TRAUMATIZED PEOPLE?
In the treatment of "traumatized persons" it is necessary to gradually get back in touch with the "buried" feelings and experiences to discuss them, classify them, and cope with them emotionally. It is necessary that this is done in a balanced way as to prevent the individuals concerned from experiencing re-traumatization through an all-too clumsy confrontation with what they have experienced. This is a psychoanalytic view and approach; other forms of therapy may prefer other approaches.
ARE TRAUMATIZED PATIENTS MORE LIKELY TO BE WITHDRAWN AT THE BEGINNING OF THERAPY?
"Closure" in the sense of "taciturnity" in the therapeutic process, especially with traumatized patients, does not mean that they do not have trust (yet). The trauma means that the experience is not (yet) perceptible to the patients themselves and thus cannot yet be communicated through words; the traumatic event is initially communicated differently.
WHAT DO INDIVIDUALS ABUSED EARLY IN LIFE STRUGGLE WITH DURING THE COURSE OF THEIR DEVELOPMENT?
It can certainly be assumed that people who were abused at an early age never learned to pay attention to their needs and limits. Sometimes, victims try to numb and endure unbearable inner states by means of drug consumption, which can be seen as a kind of failed self-medication; in the drug milieu, it is common to finance one's own addiction through prostitution.
Translated by Emily Schiffer
#humantrafficking #humanrights #psychology #therapy #help #trauma #violence #AgainstHumanTrafficking #GegenMenschenhandel #EndExploitation #EndTrafficking #HopeForTheFuture #Austria