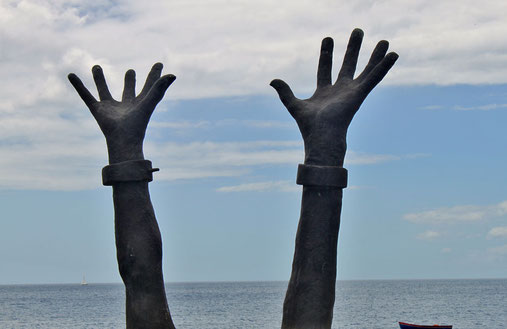 It is incomprehensible to many people that human trafficking, the modern form of slavery, still exists. When we read or hear the word 'slavery' we inevitably think: 'But it has been abolished! How can that still be?'.
Nowadays, slavery and serfdom are officially illegal in all countries. The first state in Europe to abolish slavery was Denmark in 1722 and the last was Mauritania, where slavery was only illegalised in 1980. Modern slavery makes use of all forms of violence and continues to exist by evading the law. Ownership deeds are no longer possible, but desperate and poor people can be forced into dependency relationships and therefore become subject to the will of others.
SO HOW EXACTLY DO THE PEOPLE AFFECTED END UP IN MODERN SLAVERY?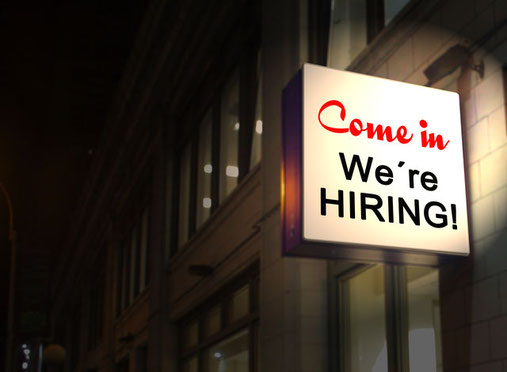 Some of those affected are descendants from slaves and are already born into modern slavery. Others are sold to human traffickers by their own families and never had a choice in that matter. And yet other victims are recruited through different recruitment techniques such as various promises, deception or seduction and end up in exploitative and often violent circumstances from which it is extremely difficult to break free. Recruitment can take place through personal acquaintances or professionally through advertisements.
In the case of personal acquaintances, for example, it is former slaves who later turn into pimps and madams themselves and recruit people using false or exaggerated promises. For the purpose of recruiting, the recruiters first gain the trust of the people. Especially people in refugee camps or extremely poor regions are the most vulnerable and become the targets of such recruitment attempts. Anyone who has no income, a high willingness to migrate, duties of care or impairments would very much like to believe someone who advertises a chance for a better future. Once they´ve won the people's trust, they are transported to other places. People who are desperately hoping and wishing for a better future willingly cooperate and often pay large sums of money to be taken elsewhere. They thereby consent to the transport to completely unknown locations. After it becomes clear that the promises were all false the human traffickers start to dominate and control the victims by threatening them or using physical and psychological violence. Beatings, isolation, rape and the administration of drugs are common means of forcing people into exploitative conditions.
Recruiting through advertisements is fraudulent. Positions that do not even exist are advertised or there is simply incorrect information about income or career opportunities. The desperate people contact the recruiter and have absolutely no idea that the first meeting is actually the first step into exploitation. Most people see it as a chance for a brighter future beyond poverty or disease – but instead they experience nothing but violence and submission.
Adults and minors recruited this way end up in different fields of work in Austria.
Typical areas of modern slavery are housekeeping, babysitting, facility cleaning, hotel business sectors, gardening, agriculture, seasonal work, construction, casino enterprises, beauty salons, sewing shops and, last but not least, strip clubs and prostitution.
RECRUITING FOR THE PURPOSE OF SEXUAL EXPLOITATION MOSTLY USES EMOTIONAL BLACKMAIL, COERCION AND PSYCHOLOGICAL VIOLENCE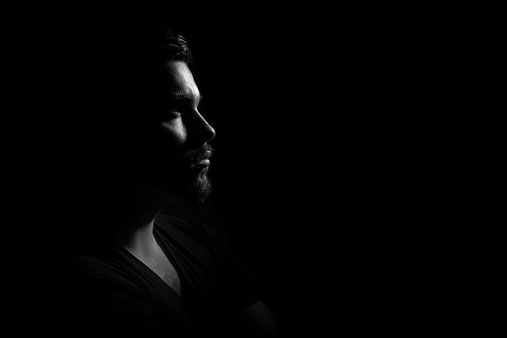 One of the most common methods used for sexual exploitation is the 'love' form of recruitment. Human traffickers fake an emotional attachment to or/and a relationship with the person or give false promises of marriage.
These so-called 'loverboys' are recruiters, mostly between the ages of 18 and 30, who fake a romantic relationship with girls or young women. The girls and women are then isolated from their families and friends and manipulated into an emotional dependency. The women feel compelled to prove their feelings to their 'lover' by helping/supporting him financially. They should then earn this money through prostitution. Psychological and physical violence are used to keep them obedient. Threats against family members or friends are also made sometimes and a wide variety of drugs are often involved. The aim of these fake relationships is to sexually exploit the girls or women in order to earn a lot of money. The figures in the report of the Federal Criminal Police Office show how often human trafficking, in the form of forced prostitution, occurs in Austria. Sexual exploitation was found in 70% of the human trafficking cases detected in Central and South-eastern Europe. Forced prostitution is also, sadly, part of everyday life in Austria and is the most common form of human trafficking in our country.
THE WAY OUT OF MODERN SLAVERY IS MUCH MORE DIFFICULT THAN THE ENTERING
Most victims of modern slavery come from poor or difficult social backgrounds and often had poor chances of a safe and dignified life. In addition to the bad economic situation, the exploitative conditions of modern slavery, found mostly in forced prostitution in Austria, leave deep emotional scars. The people are severely traumatised, often in poor health and have lost all trust in others. Many lose all hope and give in to exploitation. But even for those who find the courage and strength to escape, hurdles and difficulties await. Anyone who wants to gain a foothold beyond exploitation needs an income perspective outside the previous working conditions.
A legal process to prosecute human traffickers does not solve all the problems that await the survivors. Safe houses can temporarily provide accommodation and advisory services provide information about the legal framework in Austria in addition to the support with administrative procedures. However, in order to create a permanent exit strategy and to find sustainable prospects for a non-violent future, those affected need solid support and assistance for successful integration into the legal labour market. HOPE FOR THE FUTURE offers various workshops for survivors and a work integration project in order to take the first steps into a new and bright future.
We would be more than happy if you would like to support the work of HOPE FOR THE FUTURE – be it financially or by volunteering.
Translated by Sophie Kitchen