Systematic oppression, forced labor, torture, rape, human experimentation, and forced sterilization: At first, it was just conjecture, but then documents emerged that brought to light a sad reality. For decades, members of the Uyghur ethnic group in northwest China have been systematically oppressed, persecuted, and put into so-called "re-education camps" – and we all watch it happen.
WHO ARE THE UYGHURS?
The Uyghurs are a Turkic-speaking and predominantly Muslim minority that has its origins in Turkestan. Currently, the World Uyghur Congress estimates a total population of about 20 million people. Of these, about ten million live in what is now the Xinjiang Autonomous Region (XAR) in northwestern China. Thus, the Uyghurs, along with the Tibetans and Mongols, are among the largest minorities in China. 
According to the Federal Agency for Civic Education (BPB), the Uyghurs have been repeatedly oppressed economically, politically and culturally in recent decades by the ruling and largest Chinese population group, the so-called Han Chinese. This finally led to various Western states officially classifying the Chinese government's actions against the Uyghurs in Xinjiang as "genocide" in 2021.
CHINA AND THE UYGHURS IN CONFLICT
Today's Xinjiang region, which the Uyghurs call "East Turkestan," was annexed by China as early as 1949. For decades, therefore, there has been tension between the Chinese rulers and the Uyghurs striving for national independence. The discontent of the Uyghurs was increasingly intensified by the settlement of Han Chinese in the province, which was promoted by Beijing. In addition, Xinjiang is said to have increasingly become a surveillance state in which the Uyghurs are further restricted in their language, culture and religious freedom. As a result, protests and bloody clashes between the Han Chinese and Uyghur inhabitants occur time and again. 
Especially since the attacks on the World Trade Center in New York on September 11, 2001, the Chinese government has begun to repeatedly associate Uighur society with terrorist activities and to justify its actions against Uighurs as part of the "global war on terrorism." 
Then, at the end of 2019, leaked documents revealed that the government was continuing to crack down on Uyghurs with so-called "re-education" measures in internment camps. Officially, China describes the camps merely as training centers that Uyghurs can visit voluntarily.
This was clearly disproved in 2022 by the publication of the "Xinjiang Police Files". Numerous documents, as well as visual material and transcripts of speeches by high-ranking party officials, provided the first insight behind the walls of the brutal "re-education" camps. On display are several injured inmates, security forces equipped with assault rifles, and an inmate in a "tiger chair," a chair used for torture.
Former inmates of these camps also reported political indoctrination, forced sterilizations, forced abortions, systematic rape, and murder.
UYGHURS ARE THROWN INTO FORCED LABOR
Adrian Zenz, a German anthropologist and probably the best-known researcher on the situation of the Muslim Uyghurs in Xinjiang, distinguishes between two state "programs of oppression". According to this, on the one hand there are the "re-education camps" just mentioned, but on the other hand there is also a so-called "labor transfer program". Although many people are resettled in the course of this transfer program, the word "transfer" does not refer to the geographical aspect alone, but much more to a change in the entire way of life itself. Thus, Uyghur herders and farmers suddenly become wage laborers who are forced to pick cotton in foreign fields against their will. They are housed in sometimes overcrowded, run-down dormitories, where they are easier to supervise. 
Furthermore, numerous studies indicate that in connection with the internment camps, thousands of Uyghurs are systematically coerced into forced labor under the strictest supervision. For example, in 2020, according to research by the Australian Strategic Policy Institute (ASPI), there were allegations that between 2017 and 2019 alone, a total of 83 foreign and Chinese companies benefited directly or indirectly from the Uighur forced laborers from Xinjiang. These include well-known car manufacturers such as Volkswagen, BMW, Jaguar, Land Rover, Mercedes-Benz and Mitsubishi, for example. But international fashion brands such as H&M, Adidas, Nike, Puma, Tommy Hilfiger, and Zara also repeatedly sourced goods – especially cotton – from Xinjiang, according to ASPI. Tech companies such as Google, HP, HTC, Huawei, LG, Microsoft, Nintendo, Nokia and Sony also appear repeatedly in the report. The Chinese government itself, as well as the various companies, continue to dismiss the accusations, calling them merely "Western" lies – despite the numerous eyewitness accounts and countless official documents. 
BLOODY COTTON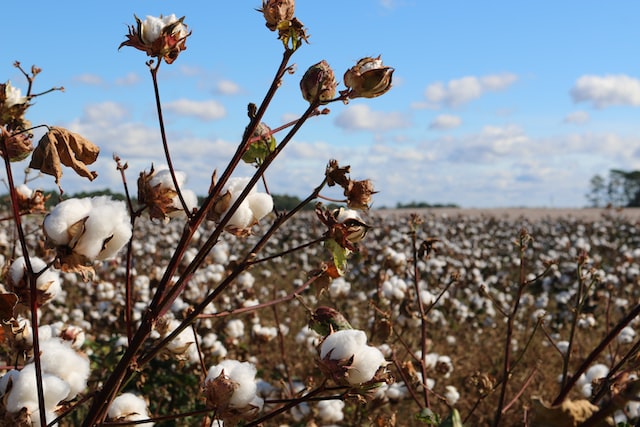 About 90 percent of all Chinese cotton is grown in Xinjiang – that is about one fifth of the global cotton supply. Thus, statistically speaking, there is a relatively high probability that almost every Austrian closet contains at least one item of clothing made with cotton from Xinjiang. The fact that this cotton is mostly picked by Uyghur forced laborers is of interest to only a few. According to research by activist Adrian Zenz, hundreds of thousands of Uyghurs have been forced to harvest tree blossoms in recent years.
Although the mechanization of harvesting work has increased greatly in recent decades, most of the harvesting still has to be done by hand and this can take between eight to ten hours every day. There are no breaks. Anyone who refuses, or is simply abandoned by his own physical strength, must expect to be sent back to the "re-education camp" and be subjected to severe torture again.
According to its own information, the German textile and clothing industry therefore refrains from cotton deliveries from Xinjiang. Research published last year by STRG_F, a format of the Norddeutscher Rundfunk, shows a different picture. According to this, garments of the brands Adidas, Hugo Boss and Puma were scientifically analyzed. The result: The laboratory was able to prove that the cotton in the examined garments show a high similarity to cotton samples from Xinjiang, which can be clearly distinguished from other cotton regions. 
DIRTY SOLAR ENERGY
But not only cotton is produced through Uyghur forced labor. One third of the so-called polysilicon, which is used worldwide in the production of solar cells, also originally comes from the Xinjiang Autonomous Region. According to research by Britain's Sheffield Hallam University and the U.S. consulting firm Horizon Advisory, numerous Uyghurs toil in this sector as well, under the government's "labor program." Meanwhile, the U.S. is proceeding with sanctions against Chinese solar companies from Xinjiang province. Accordingly, no more goods from Hoshine Silicon Industry, Daqo, East Hope and GCL may be imported. The EU Parliament is also planning a similar regulation for the future in order to take joint action against forced labor by the Muslim minority of the Uyghurs.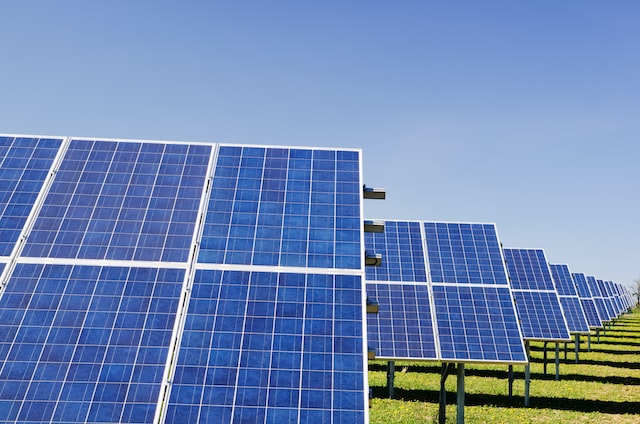 Translated by Emily Schiffer
#ForcedLabor #Exploitation #Cotton #Uyghurs #China #ModernSlavery #HumanTrafficking #AgainstHumanTrafficking #GegenMenschenhandel #EndExploitation #EndTrafficking #HopeForTheFuture #Österreich