Hurray – it's asparagus season again! You'll find slogans of this kind everywhere you go at this time of year. One person's culinary delight, however, is another's abject suffering. Because when it comes to the miserable working conditions experienced by the huge numbers of harvest workers impacted by the systematic exploitation in the industry, we are decidedly less vocal. So what are the conditions these workers are being forced to endure – and what does the situation look like in Austria?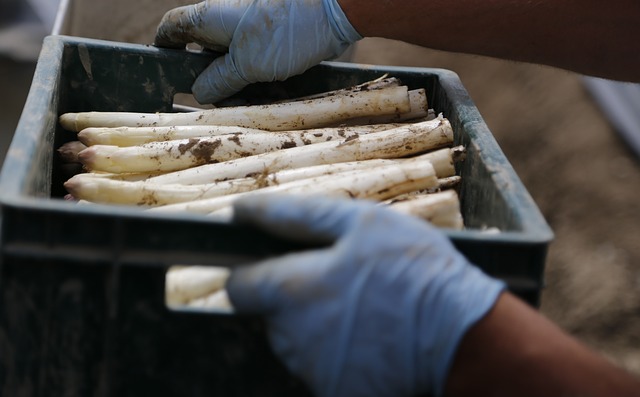 The asparagus harvest starts in April every year. It also marks the beginning of an ordeal for the hundreds of thousands of harvest workers who make their way to Austria and Germany from Poland, Romania, Moldova, Bosnia and Bulgaria. Not all of them are coming of their own free will. Reports describe people trafficking, conditions similar to slavery, and systematic exploitation.
You wouldn't know this from the figures supplied by the authorities in these countries, however. The Austrian Chamber of Agriculture refers to 13,800 seasonal and harvest workers coming to Austria from abroad every year.
A harvest worker is expected to pick anything up to 20 kilos of asparagus an hour – all by hand, of course. The terms of the collective agreement state that they should be earning a gross wage of 8.66 euros an hour, or 7.07 euros net, for their work. The minimum wage is 1,224.21 euros, to be paid each month.
Abuses are only made public on a highly selective basis. The cases which have come to light range from hourly rates of 2.50 euros, missing overtime payments, people being forced to work more than 100 hours a week, and workers housed in mass accommodation. Particularly tragic, however, are those cases which lead to harvest workers dying for their work.
THE CASE OF PIETRU B
The grisly details of the industry only come to light when harvest workers collapse under the strain of the work being demanded of them. One of these was Pietru B. The Romanian harvest worker collapsed in 2014 in a field in Germany, and died of multiple organ failure caused by physical exhaustion due to the impact of the heat. He had lifted nearly 900 bales of hay up onto a trailer at constant temperatures of 31 degrees – for 6 euros an hour. The farmer was accused of neither providing sufficient liquids nor allowing his workers to take breaks. The beginning of the trial against the employer was delayed until 2018, and the trial, for involuntary manslaughter, eventually ended ingloriously when it was discontinued due to lack of evidence, with Pietru's widow receiving in a payment of 6,000 euros. This ensured the farmer was able to avoid a criminal conviction. While the media present the case as a one-off, insiders know better: cases like this one are not a rarity, unfortunately; they actually reveal the underlying system, which is marked by exploitation.
THE MARCHFELD ASPARAGUS SCANDAL – EXPLOITATION "MADE IN AUSTRIA"
If you're looking for abuses in the harvesting sector in Austria, it won't take you long to find them. The "Marchfeld asparagus scandal" made huge waves in Lower Austria in 2020, for example. There's a certain irony, of course, in the fact that a company that sells its asparagus under the protected trademark "Marchfeld Spargel", of all things, should have got itself tangled up in a fully-flung scandal. These asparagus farmers never tire of emphasising how they work strictly in accordance with the guidelines for integrated production and organic farming criteria.
The media interest and public outcry were fittingly huge when it came out that an asparagus company in Mannsdorf an der Donau was responsible for systematically exploiting harvest workers. Workers there had to do piecework every day – for up to 15 hours a day – at an hourly rate of four euros. They were housed in unhygienic mass accommodation unfit for human habitation. The company was eventually closed by the authorities for a short period.
This example clearly shows that "Made in Austria" is no longer a seal of quality and should under no circumstances be misunderstood as a guarantor of fair working conditions. In fact, it's almost impossible for consumers to reach conclusions about exactly how the asparagus was produced. There is no "Fair Trade" seal of quality for asparagus to confirm that certain basic rights for workers and farmers are being maintained. While high working and social standards are essentially the norm in Austria, therefore, there is no sufficient security for consumers unless these are checked strictly enough.
THE SEZIONIERI CAMPAIGN – ACTIVISTS ON A MISSION FOR FAIR WORKING CONDITIONS
So far, lasting attempts to improve the situation for farmworkers have come to nothing. In Brussels, efforts were made to scotch the breaches of the law at European agricultural companies, and to create the prerequisites for fair working conditions: during its presidency of the EU Council in 2021, Portugal had proposed linking EU funding to fair working conditions for harvest workers. Twelve countries blocked this strategy, however; one of these was Austria.
What remains is the hope that in future, foods will be strictly checked not just according to their quality, but also to the conditions in which they are produced. This is because there is a lack of effective, sufficient and unified checks, and of transparency.
The nine agricultural and forestry inspectorates in the regions only ever carry out a handful of checks. According to a report, this check didn't uncover a single shortcoming, either in wages or holidays, in Lower Austria in 2019 – something which seems more than difficult to believe. At the same time, it is well-known that the financial police have carried out checks on 2,414 agricultural companies in the past five years, and issued 677 penalty notices as a result – that's nearly one-in-three of the companies which came under the microscope.
The untiring dedication of Sezionieri, a campaign founded by activists from the PRO-GE production union, is another reason to be hopeful. Translated from the Romanian into the German, the term means "seasonal workers". Every spring, they travel from field to field handing out their flyers in an effort to get a picture of the situation "on the ground", until St. John's Day on 24 June and the official end of the "asparagus season". The activists have made it their goal to observe the trend in migratory work for those doing harvesting work, to inform workers of their rights in concrete terms, and to assert these rights to their employers. It is also important to them to clarify to farmers that not observing a collective agreement is a breach of the law. This is because adverse working conditions are far from the one-off cases the industry likes to portray.
Translation by Tim Martinz-Lywood, European Exchange Ltd.
www.european-exchange.co.uk